pHresh Salt
pHresh salt™ Pure & Natural Himalayan Crystal Salt by pHresh Products™ Delight Your Senses & Awaken Your Taste Buds.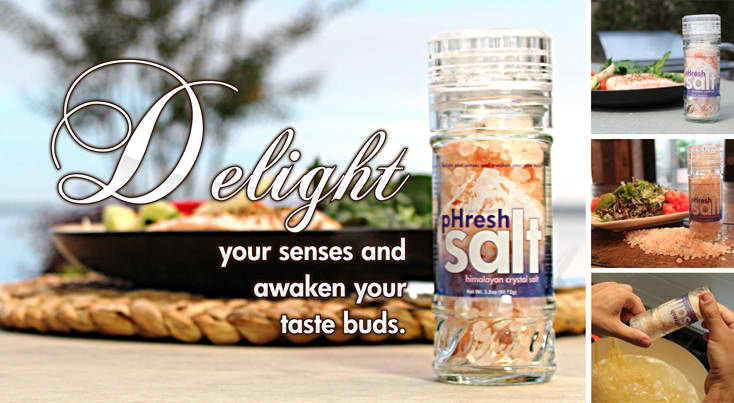 pHresh Products™ pHresh salt™ is a high quality pink Himalayan crystal salt which is known to be very beneficial. This salt was once a primordial sea that was evaporated by the sun. This pristine ancient body of water was uncontaminated by any toxins or pollutants. Today, this crystal salt, found deep in the Himalayan Mountains, is gently mined and cleaned by hand. This ensures that it's pristine and retains its original crystalline qualities. pHresh Products™ pHresh salt™ can be used for any variety of dishes. Use it to enhance flavor, or as a beautiful garnish for any meal or beverage. Delight your senses and awaken your taste buds with pHresh salt™!*
Pure & Natural Himalayan Crystal Salt*
Adjustable Grinder – Fine & Coarse*
Mineral Rich*
Unprocessed & Unrefined*
Beautiful Glass & Metal Free Grinder*
Amazing Taste and a Variety of Uses!*


---
pHresh Himalayan salt™ vs. The Others
We have all been told to reduce our salt intake to control blood pressure. This refers to the refined table salt used today for cooking and found in many food products. There are enormous differences between the common, refined, table and cooking salt, and Himalayan crystal salt. These differences, which are summarized below, can have a major impact on your health.* Common Table Salt Table salt is stripped of all its natural elements through industrial processing. The result is Sodium Chloride only.* Sea Salt A great percentage of sea salt is processed. With the ocean becoming increasingly polluted, this salt is far from ideal.* Himalayan Crystal Salt pHresh salt™ is a high quality pink Himalayan crystal salt which is hand minded, unrefined, has no anti-caking agents, and has not been processed.*
---
Uses of pHresh Himalayan salt™
Food Enhancement and Cooking Simply sprinkling a small amount of pHresh salt™ on your food or to any item will enhance your flavor experience. In addition, using pHresh salt™ during food preparation will liven up the flavors of your meals and awaken your taste buds.*
---
pHresh salt™ Questions & Answers
What is pHresh salt™?
pHresh salt™ is Pure & Natural Himalayan Crystal Salt. It is hand washed and hand mined, ensuring the highest level of quality and integrity.*
How much pHresh salt™ should I consume each day?
Consult your physician as this can vary from person to person.*
Can the pHresh salt™ go bad? How should it be stored?
The salt can be kept indefinitely. It will never go bad. It can be kept anywhere. It doesn't have to be refrigerated nor kept in the dark. However, it is recommended to keep it in a closed container to keep it free from dust and other airborne particles.*
Can I use the pHresh salt™ along with my fasting or cleanse?
The Himalayan Crystal Salt is a good complement to fasting and cleanses. It helps to eliminate the toxins and also provides vitality and support to the body as it labors to rid itself of toxins. Just to be sure to drink sufficient amounts of water while fasting or cleansing.*
I thought salt was bad for you?
Most people don't realize that salt is essential for life – you cannot live without it. However, most people simply don't understand that there are enormous differences between the standard refined table and cooking salt, and natural health-promoting salt.*
Why is Himalayan Crystal Salt better than white table salt?
Believe it or not, table salt is actually 97.5% sodium chloride and 2.5% chemicals, such as moisture absorbents and iodine. These salts are dried at over 1,200 degrees Fahrenheit, and the excessive heat alters the natural chemical structure of the salt. pHresh salt™ is far superior to traditional iodized salt. It's made from Himalayan Crystal Salt that is millions of years old and pure, untouched by many of the toxins and pollutants that pervade other forms of Sea Salt. It is known in the Himalayas as "white gold".*

---
What we do to make the world better!
pHresh Products™ together with the Gift of Life International has coordinated to provide surgical missions all around the world. They are focusing on the development of sustainable pediatric cardiac surgery and nutritional programs.  These programs are defined by the empowerment of doctors and nurses to care for their own children.
---
Suggested Use
Use pHresh salt™ to enhance the flavor of dishes.
---
Ingredients
pHresh Products™ pHresh salt™ Pure & Natural Himalayan Crystal Salt
Nutrition Facts
Serving Size: 1/4 tsp. (1.25g)
 
Amount Per Serving
%DV
Calories
0
Total Fat
0 g
0%
Sodium
530 mg
23%
Total Carbohydrates
0 g
0%
Protein
0 g
*
*Daily Value Not Established.
†Percent Daily Values are based on a 2,000 calorie diet. Your diet values may be higher or lower depending on your calorie needs.
Ingredients: Pink Himalayan Crystal Salt
* These statements have not been evaluated by the Food and Drug Administration. This product is not intended to diagnose, treat, cure, or prevent any disease.